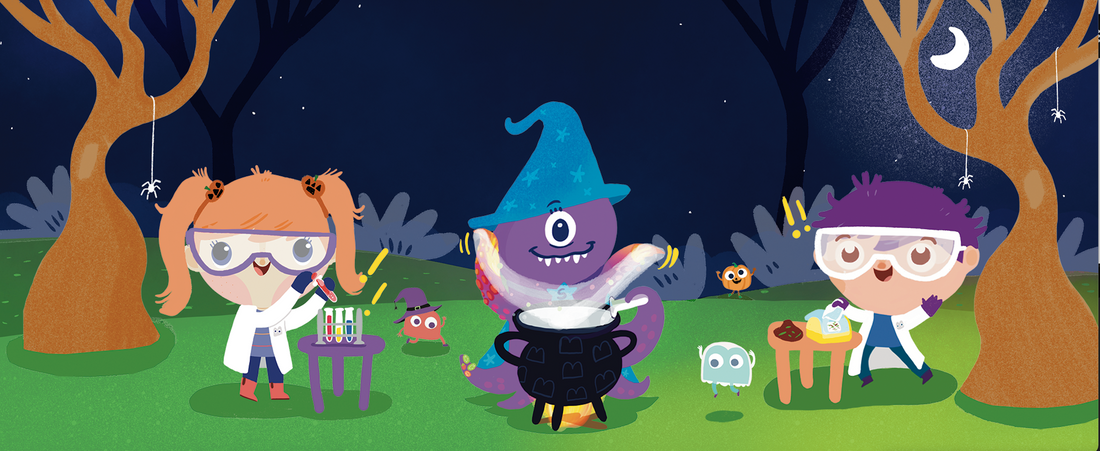 Five Calming Senses
By: Michell Robillos
Bippity-boppity-boo, Happy Halloween from MEandMine to you! We are so excited to celebrate the spookiest holiday of the year. Aside from the chills and thrills of Halloween, there are loads of things to look forward to like, tasting the sweetest and sourest candies, knocking door to door collecting treats, seeing an array of creative costumes, smelling the scent of fall, and feeling the texture of oozing slime. We encourage you to join us on a calming journey that focuses on the 5 senses to help you and your little ones feel calm from all the eerie madness that is to come. 
Taste, touch, sight, scent, and sound are the 5 senses of the human brain. Sensory calming skills are a great way to temporarily distract the mind from anxious thoughts and tantrums associated with overstimulation. Sensory-focused activities provide sensory input and help you and your child stay calm, self-regulate and become less fidgety. Calming skills are scientifically proven to reduce stress and anxiety, which in turn can lessen our bodies' susceptibility to physical ailments and diseases that are usually triggered by stressful events.  
Here are a few of our favorite sensory calming skills, combined with experiments from MEandMine's Aha! Digestion kit called Journey Down the Belly.  
Creepy Slime- The feeling of slime is very relaxing. Take a ziploc bag, add glue and water. You can also add food coloring and glitter for fun. Close the ziploc bag and gently, but thoroughly massage the bag and its contents. Open the bag and remove the slime. Continue to massage the slime with your hands until you get your desired consistency. When you're done, it's time to feel the texture and sensation of slime. Pull it apart, roll it between your hands, put it against your cheeks. Enjoy the sense of touch. 
Mad Lava- Take a glass or plastic jar with a lid. Add even amounts of water and baby oil. Drop food coloring tablets or liquid food coloring. Add alka seltzer tablets one at a time into the jar. Quickly place the lid onto the jar. Turn the jar over and watch the fizzy effects of the ingredients combined to create a hypnotic lava lamp. You can do this activity several times by starting the process all over. Watching the bubbles is a soothing visual that in turn will calm the body and mind. Enjoy the sense of sight.

Goblin Poop- In a world where playing with poop is unacceptable, here at MEandMine, we encourage kids to use their imagination and view poop as a natural thing our body creates.  Take a medium to large sized cheesecloth or an old shirt. Fill it with brown and black paper strips. Add water to the cloth or shirt. Gently massage to combine all the materials. Squeeze the water out of the cloth or shirt. Open it up and pull out your surprise! You've made a replica of poop! You can get an  understanding of how the body keeps good nutrients and expels the not so nutritional particles through poop. Make more poop and enjoy calming skills through sensory play. 
Whenever stress and emotional overload are triggered, you can use your five senses to get you back to a calm state. You can practice your five senses anytime, anywhere. The possibilities are endless. Have a great Halloween celebration, and remember to take in all the fun moments with your family and friends.  
For more Digestion experiments, check out Aha! Digestion's Journey Down the Belly. Learn fun, hands-on activities to get your kids to learn about where their food travels. Available on Amazon and the MEandMine website. For more Sensory Calming techniques, check out our newest product, iCalm Galaxy. Learn all sorts of fun ways to regulate our emotions through building and playing your very own board game. Now available on Amazon and the MEandMine website.  
_____________________________________________________________________________________

For additional suggestions from a licensed psychologist, check out Dr. Peggy Chang's Resources:   
A basic break down on sensory and its relationship to children's behaviors and coping:
Sensory Seeking and Sensory Avoiding: What you need to know  
Within the same article, it also breaks down the different senses and what to do in regards to coping: touch, visual,  taste & smell, and hearing.
Ways to use sensory skills:
8 Sensory Friendly Indoor Games & Activities 
Shop products related to Emotion Regulation and Digestion:  
Shop iCalm Galaxy and Journey Down the Belly on Amazon 
Shop iCalm Galaxy and Journey Down the Belly on MEandMine.

#MEandMine #STEAM #STEM #SOCIALEMOTIONALLEARNING #HOLIDAYGIFTGUIDE #DREWBARRYMOREGIFTGUIDE #AMAZONGIFTGUIDE #iCALMGALAXY #JOURNEYDOWNTHEBELLY #LEARNINGISFUN #PLAYKITS #STEAMPLAYKITS #MEANDMINEKIDS #EMOTIONREGULATION #HEALTHYHABITS

SUBSCRIBE TO GET THE LATEST UPDATES ON BLOG POST